Wedding Packages
Package #1 – Basic Reception
4 Hours
Coordinate Reception From Introductions To Last Dance – Full MC Interaction w/ Audience
2 Laptop Computers w/ All the Hits from the 1920's till today
Wireless Microphones for Toast
Full Intelligent Dance Lighting and Laser System (DMX 512 Protocol)
Up to 8 Hours of Emergency Battery Power For Music and Lighting In Case of Power Outage
Package #2 – Reception & Custom Monogram
 Includes all items from Package #1
Plus a Custom Monogram projected on the wall or dance floor – Design & Font of your choice!
Package #3 – Reception, Custom Monogram & Full Room Up Lighting
Includes all items from Package #1 and Package #2

Plus FULL Room Up Lighting – 18 Wireless LED units for room décor with the color(s) of your choice!
Additional Options:
___ Cocktail Hour
___ Ceremony
Additional Hour
Additional Sound System
Wireless Lapel Microphones
___ Wedding Rehearsal
___ Photo/Video Slide Show
___ Live Audio / Video Conference
***Additional Services***
Surprise First Dance Mix
Surprise all your guests with an unexpected custom first dance mix. You choose the songs you want to use and give us an idea of how you want it to sound and let us take care of the rest. When the song is done we will email it to you for approval. Here are a couple of audio clips of Surprise First Dance mixes ……. Press Play and it will take a few seconds to download.
Brad Paisley – "Then", mixed into 3 other songs and mixed back into "Then".
Nickelback – "Never Gonna Be Alone" remixed into 4 songs and mixed back into "Never Gonna Be Alone".
Personalized First Dance
You are now being escorted to the dance floor by your husband for your first dance. Your first dance song will contain the vows that you just said minutes ago during the Ceremony.
** AUDIO CLIP COMING SOON **
Personalized Parent Dance
We can record a special message from you prior to your wedding day and tastefully mix it into your special dance with Mom or Dad. Here is an audio clip of a Personalized Parent Dance ……. Press Play and it will take a few seconds to download.
Steven Curtis Chapman – Cinderella
Audio Recording
High quality audio recordings of your Ceremony are available.
Things To Consider When Hiring A DJ
Please keep in mind that if you hire a professional DJ for a 4 hour Wedding Reception or any other party you are NOT paying just for the time He/She is at your event. Here are few things to consider:
Disc Jockey rates vary based on talent, experience, emcee ability, service, coordination, equipment needed, music knowledge, mixing ability and personality. The best price is not always the best deal, especially if you are planning a wedding. As a matter of fact, surveys conclude that nearly 100% of brides would have spent more money on their entertainment and made it their #1 priority in hindsight.
As a full-service disc jockey company we normally invest 20 to 40 hours on your special event but it may appear that you are only paying for "4 hours". Consultations, music purchasing & editing, preparation, set-up and tear-down, education and other business related endeavors add up to the overall success of your special occasion. A Professional DJ from the ADJA (American Disc Jockey Association) provides you with confidence that your event will flow smoothly and will be an event that you, your family and guests will never forget. Please click on the link below and see a short video brought to you by the "American Disc Jockey Association".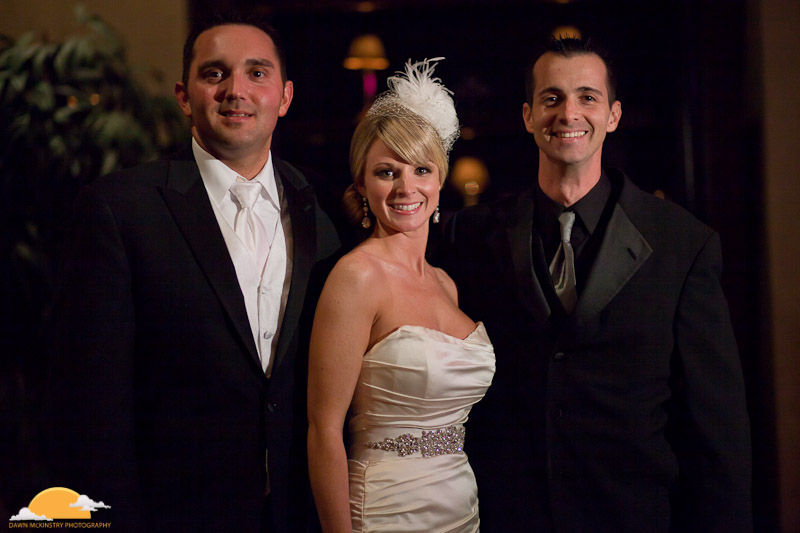 Photo Courtesy of Dawn McKinstry Photography